The Coronavirus Pandemic has taken so much from us.  There are restrictions in place that are keeping us from our normal summer schedule at Grace Farm, but we're excited to offer our new safety schedule.  We have loaded our Day Camp events with outside activities, and will practice guidelines put in place for safety.  We believe so strongly that we are created by God for friendship and adventure. Life is not at its best when all we do is shelter inside and look at small screens.  We hope you can join us for outside adventures under sweet summer skies at Grace Farm!
Register here for our 2020 day camps!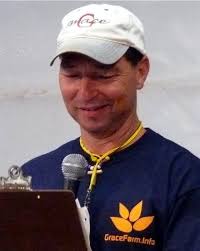 A Word From Our Director, Freddie Coile.
Grace Farm is a unique place with a unique atmosphere geared for connecting people to God. Here in the quiet and wild places, the Bible speaks in powerful ways. From the morning fires to the night skies, the moments here are packed solid with the revealing of truths from scripture, the pure joy of discovery, and the fun that happens when friends are together in the atmosphere of camp. If you are thirsty to know more truth, your time at Grace Farm will be like taking a sip of water from a fire hose! Come on, Grace Farm is waiting for you!